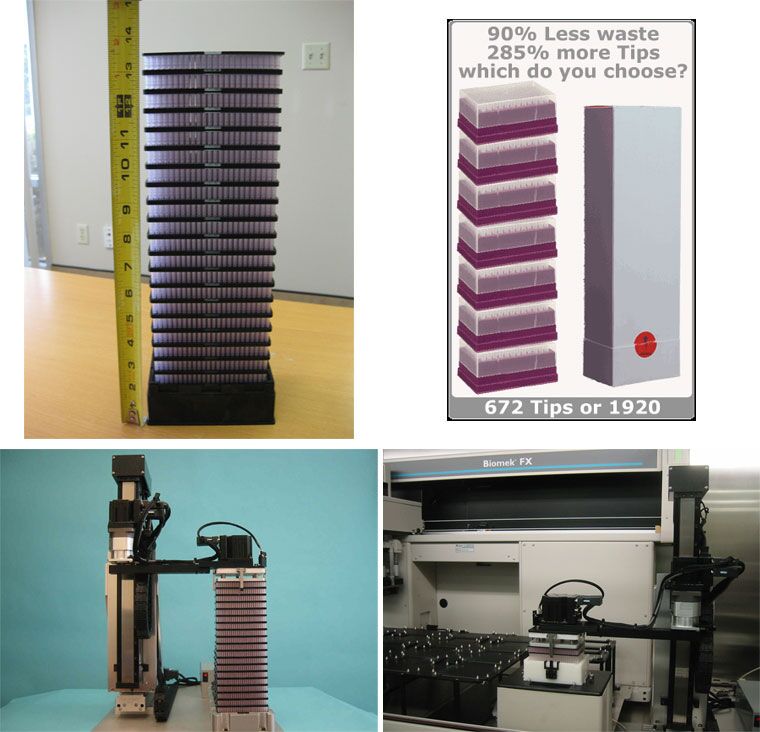 How many regular tip boxes does can you stack in 13.5 inches height?
Trx is a specialized robot for delivery of disposable nested tips to liquid handling equipment.
Nested tips are a revolutionary and eco-friendly product that can save money and space in modern laboratories. Trx is an automated system for delivery of 96 and 384 nested tips to automated liquid handling equipment. The unit is very compact in size. It measures only 17″ Wide, 28″ deep and "25 high. It can deliver up to 224 sets of 96 tips or 160 sets of 384 tips to automated liquid handling instruments. Compared to traditional rack based systems, space saving is enormous. This is like having 224 tip boxes stored in the system.
The whole unit is table top and only requires AC input power to run. The gripper is motorized and no air is needed.
Integration is fast and easy. The Focus software has all the tools necessary to make integration fast and seamless. A high level class of functions have been created to leverage the sophisticated capabilities of Focus in any programming environment. As such Trx can be integrated with most popular liquid handling platforms such as Biomek FX, NX, Multimek by Beckman Coulter, EP3 by PerkinElmer, Gemini by Tecan, and many others.
The Trx system works by combining a delivery head with pre-oriented pipette tips in neatly packaged refills. The system can deliver to a permanent depot or RoboRack™ and is then used by your workstation.