Integrating smart devices to create intelligent instruments and systems

AB Controls can integrate data acquisition, vision, motion control, robotics, statistical process control, and other sub-systems into one seamless structure.
In today's manufacturing there is often a need to integrate various devices into a working and integrated system. there is often a need to integrate various devices, instruments, sub-systems, control systems, test equipment etc. to create a seamless system that works as one.
The "glue" to make it all work together is software. What is needed is a multi disciplinary understanding of the whole process. That's where we can help. We offer full service system integration: this means integration of mechanical systems, electrical/electronics and software to create a completely integrated system.
Not only can we integrate systems, we can also help you specify systems. if you are wondering which instruments to use and integrate towards a certain outcome, we can help you choose the right components.
Here are some examples of sub systems and devices we have integrated before. With many years of experience we are quick studies and we can find out how your specific system needs to be integrated.
| Type | Brand |
| --- | --- |
| PLC, HMI, Instrumentation | Mitsubishi, Allen Bradley, Opto22, Omron, RS Logix, Wonderware, Intellusion |
| Data Acquisition, Analysis | National Instruments, HP, Agilent, Tektronix |
| Motion Control and Motors | Galil, Parker, Delta Tau, Advanced Motion Systems, Animatics |
| Robotic Arms | Mitsubishi, Denso, Kawasaki |
| Laser Beam Profilers and Power Meters | Ophir, Spiricon |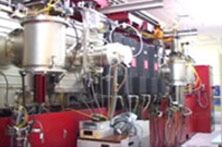 Our System Integration for Sputtering Thin Film Machines
Our customer in this case is a leader in development of thin film and various coatings of thin film on glass. Their requirement was to integrate all systems into one package and create a custom software that allowed them to operate the machine with various settings that resulted in different coatings such as ITO, IMITO, OLED, etc.
This machine integrates various instruments: a PLC runs all automation processes, while settings for targets, power sullies, flow controllers, etc. need to be downloaded to remote devices such that the appropriate result is created.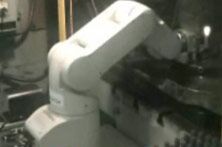 System Integration for Press Automation
Our customer, a leading provider of fasteners for aerospace applications wanted to automate one of their presses. This project was later on expanded to several presses. These presses, between 5 tons to 500 tons, are used to shape stainless steel slugs into various head shapes. The robot needs to interact, not just mechanically, but eclectically as well, with the press and other accessories associated with the press.
The automation not only saves money and labor, but it significantly improves safety. Interacting with the press is a dangerous business. The robot takes over this function and it does it dutifully with no mistakes. Examples like this one can also reduce insurance costs. We can help you perform a cost/benefits analysis very simply. Our solutions often pay for themselves within 6 months from launch.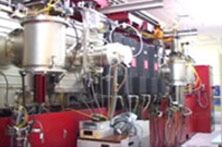 System Integration for Ultrasonic 3-D Scanner
Our customer, a major research university wanted to integrate several components including: an arbitrary function generator, a 3-axis Cartisian robotic system from Parker, an ultra high speed, with deep on-board memory to create a 3-d scanner for biomedical purposes. The system allowed coordinated motion and data acquisition based on reflections of ultrasonic wave emitters. The data was then analyzed and a 3-d model of the subject scanned was formed. This project required through understanding of various components integrated.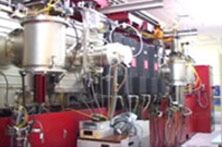 Development of LIMS System
Laboratory Information Management Systems can be very complex and costly to implement. They often involve many levels of integration between a database of raw materials and processes and instruments. We have successfully implemented LIMS systems for our customers.
Our expertise in instrument communication and knowledge of validation process for instruments allows us to deliver integrated solutions in record time and on budget.
Please call us for a free consultation about your LIMS project implementation.