Apix is a robust and compact robot that handles 96, 384 and 1536-well microplates. Applications include automation of liquid handling equipment, storage and retrieval of microplates for scanning purposes etc.
These tabletop machines are four-axis robots offering a high payload and excellent repeatability, all in a very compact and industrialized package. The innovative Tri-Link arm provides for a superior extended reach as well as the ability to fully retract in on itself.
Apix is uniquely designed with the Z axis moving the whole arm up and down. This is particularly useful for getting into tight spaces, and makes this an ideal tool for a whole class of pick and place applications.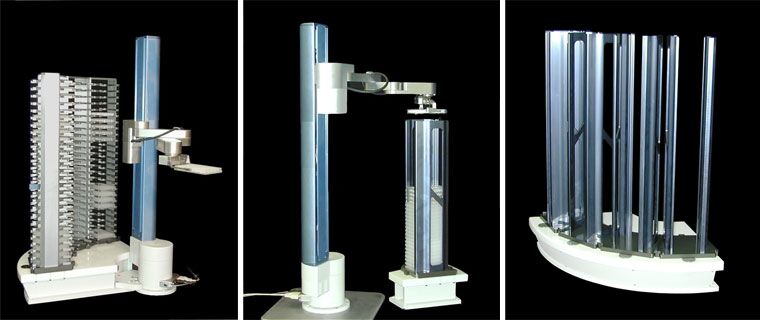 Both random access and FILO (First in Last Out) Stacking options are available. Also two different heights are available. 440 and 550 mm. All joints are driven by servos with controllers and amplifiers integral to each motor. A single communication cable connects between the robot and the PC.
We can integrate the robot and accessories with necessary instruments into a turn-key automated work cell using Focus our automation software.
Specs
Metric (English)
Axes 4
Max Payload 2 kg (4.4 lb)
Reach, R (radial travel) 300 mm (11.8 in)
Stroke, Z (vertical Travel) 440 mm (17.3 in) or 550 mm.
Base Rotation 330°
Wrist Rotation 280°
Speed (Max)
Arm Extend 480 mm/s (19 in/s)
Vertical 300 mm/s (11 in/s)
Base Rotate 288 deg/s
Wrist Rotate 380 deg/s
Repeatability:
Arm Extend 0.10mm (.004â)
Vertical 0.05mm (.002â)
Weight 17 kg (38 Lb)
Mounting Tabletop Flange
Environment 1°-45° C (34°-113° F)