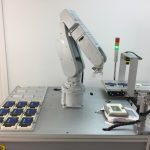 Laboratory teams are continually looking for ways to better improve their productivity and maximize the long-term value of their testing work. Many companies are now choosing laboratory automation solutions to boost their work and maximize the efficiency of their testing processes. Our team at AB Controls has many years of experience building and integrating the latest laboratory automation solutions, and in this post (which is more up-to-date and revised version of an older popular post), we'll explore more on their benefits and practical applications on :
Workforce
· Shorter workweeks for labor
One major benefit of automation is the reduction in the number of hours worked on average per week by factory workers.
Finally, the time required to process a typical production order through the factory is generally reduced with automation.
· Reduced Manual Work
Reduced manual work is another of the advantages of automation. You can turn to automation solutions to complete many testing processes that would otherwise require significant energy from your workforce. Having to take on less manual work can also mean that workers suffer fewer repetitive strain injuries over time.
Safety
Improved Safety
Worker safety is another reason for automation. Automated systems often remove workers from the workplace, thus safeguarding them against the hazards of the laboratory environment.
In the United States the Occupational Safety and Health Act of 1970 (OSHA) was enacted with the national objective of making work place safer and protecting the physical well-being of the worker. OSHA has been promoting the use of automation and robotics in many industries since 1970.
Product Quality
· Minimize Errors
As humans, we can make mistakes if we're tired, stressed or simply overworked. This can be difficult in most working roles but if you're working in a lab environment, a mistake can have long-term, significant consequences. Laboratory automation solutions are designed to help iron out those mistakes and ensure work is completed effectively and seamlessly.
· Greater control and consistency of product quality
· Increased process control
· Improved Data Access
Collating all the data from manual testing work can be a difficult challenge for teams. It might mean working longer hours. Teams also then have to find a storage system for their data. Automated testing solutions provide the ideal ways to protect data and ensure it's available for lab teams. These systems can track everything that happens to a sample so that its entire history can be seen by lab teams.
· Higher production rate
· Increased productivity
· Better Product Quality
Efficiency
· Reduced Duplication Problems
Communication issues within the lab environment can often mean that tests are duplicated. While humans don't always have the capacity to remember the type of test they completed several weeks or months ago, an automated system can provide the ideal report to highlight duplication. The system will identify the duplication so that teams can then begin a new testing phase. This helps reduce resource waste and support long-term efficiency for the testing company.
· Fast Report Delivery
For those important tests, it's critical that testing data is delivered quickly for review. Laboratory automation systems ensure that reports can be delivered quickly to ensure actionable data is available on short notice.
· Fast Execution
Tests can run significantly faster compare to manually done by testers.
· More efficient use of materials
· Reduced laboratory lead times
· Higher output
Programming/ Scripting aspects
All your process for laboratory testing, repeating procedures, tedious labor works, hours and hours of testing by you team could be programmed into pieces to help you to have a better controls on the overall testing process.
For sure you need a team of programmer, more skilled worker, and script writers to do the job but in long run you have the controls and advantage of having reusable, repeatable, modular, scale-able pieces that could be reuse in different versions of your software/application. These are some of the aspects of replacing your steps with programmed/ scripted modules:
· Reliable
Tests perform precisely the same operation each time they are run thereby eliminating human error.
· Repeatable
Testers can test over and over again how the application/software/script reacts.
· Reusable
All scripts/ test modules can be re-used on different versions of the application/ software.
· Ease of scripting
· Scalability
· Modularity
· Comprehensive
Testers can build test sets that cover every feature in software /application.
Call us today for all your Laboratory Testing Automation needs!