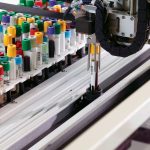 Automated test equipment companies are now helping improve the validity of testing results for a broad range of organizations throughout the globe. But one of the challenges within the marketplace is that few business leaders have a comprehensive understanding of the role of automated test equipment companies and the equipment these firms offer for the working environment. To help guide business owners, we're highlighting the full range of benefits supported by partnering with automated test equipment companies, in this latest post.
Working with companies such as AB Controls on automated test equipment enables teams to become more productive. A lab worker can implement the test sequence, set it to run and then leave the lab. The turnkey operation of the latest systems makes the entire process user-friendly and easy to complete even for those with little training. This helps support organizations in meeting their productivity goals and mitigates part of the cost of completing the testing process.
Deploying a full team to complete testing equipment takes a considerable amount of time away from lab workers. The entire team involved in the testing process must remain in place while the test is being completed. They might not be active during this process, but will be monitoring the test to ensure it's completed effectively. Deploying an automated system helps save time for the entire team and allows them to direct their attention to other elements of their work.
Lab costs are a significant element to consider for manufacturing firms around the globe. And working with the latest automated test equipment can help to reduce these costs significantly. For example, pharmaceutical companies completing Titration on numerous samples can utilize an automated test system to complete the same routine test multiple times without investing in new testing set up procedures and paying lab teams to complete the setup, oversight, and analysis work. It's a significant cost-savings which can allow companies to allocate funds to other areas of their operations.
Another leading issue for lab teams is maintaining the consistency and reliability of the results achieved within their testing procedure. Human error is a large cause of instability in testing and that's why many are now turning to automated systems. The latest automated test equipment allows companies to achieve their ideal levels of reliability without having to invest further in staff training.
Provides Better Availability
High availability is clearly one of management's primary goals at the time of budgeting for automated test equipment. After installation, the tests could be run with minimum supervision; and in most cases, even 24/7. Therefore, accessibility to results for better decision making for management is going to be a great factor. By working with a trusted company such as AB Controls to setup, configure and maintain automated test equipment; the required results or reports will be available to the management team faster.
Our team at AB Controls can help your organization consolidate its testing costs and replace outdated products. To learn more about our services, call us today!